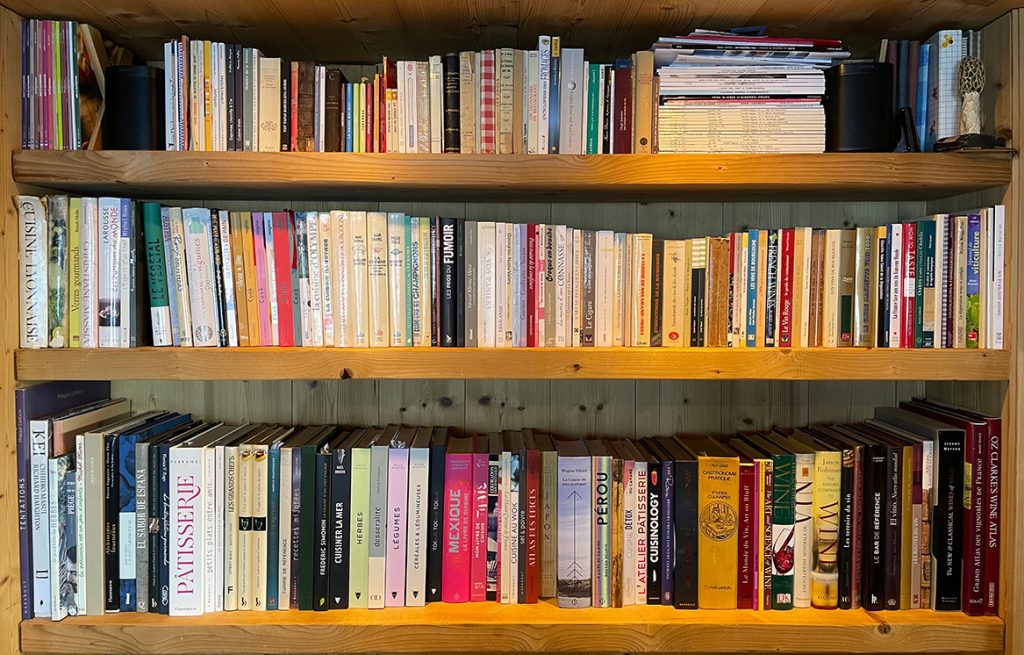 In the library of l'Alpage de Porrez
Gastronomy is king at l'Alpage de Porrez which has a rich library dedicated to cooking – its history, its techniques – and to wines and spirits. Old books, chef techniques, regional inspirations and world cuisine are accessible to customers… To whet your appetite!
Alpage de Porrez : a well-organized library
At l'Alpage de Porrez, everything is designed so that the customers feel in a familiar environment, as soon as they walk through the front door. After swapping their ski boots for indoor custom made clogs for the mountain restaurant, the guests evolve in the house as if they were at home.
They take over the living room with a glass of champagne in hand, as well as the kitchen in the company of chef Christophe before sitting down to eat. Just as the piano is available to music lovers, the library of l'Alpage is available to the curious and passionate about gastronomy and wine.
A heterogeneous selection of very many books is actually made available to customers, who are free to leaf through the books of their choice. Gathered over several decades by Christian and Laëtitia, the books reflect the rich and varied tastes and inspirations of the hosts.
Eighteenth-century cookbooks rub shoulders with works by the best chefs of each era; classics of gastronomy share shelves with manuals about molecular cuisine; world cuisine and regional know-how come together from one book to another.
Cooking techniques and history
Thanks to the library of l'Alpage, it is possible to return to the sources of gastronomy and oenology with reference works recounting the history of French cuisine and wines.
From grandmother's saucepans to the test tubes of Hervé This, inventor of molecular cuisine, readers are spoiled for choice at l'Alpage. Polyglots too: the library has many books in English and Spanish, like "English bread and yeast cookery", a classic published in 1977, signed by culinary author Elisabeth David.
The selection also shows a real appetite for world cuisines (Japan, Mexico, Spain, Thailand, Scandinavia, Peru, etc.), but also for specialties from our regions and more particularly from Burgundy.
The chefs fine cuisine
The books signed by great starred chefs are also in good place and allow to share the culinary universe and the inspirations of Christian and Laëtitia. The curious can, for example, find Jean Sulpice, chef of l'Auberge du Père Bise in Savoie (2 Michelin stars) with several books including "L'Assiette sauvage" and "Le chef, l'Auberge et le lac" which evoke Chef Sulpice's powerful relationship to Savoyard nature. An approach that finds a particular echo at l'Alpage de Porrez.
Three-starred chef, Régis Marcon also appears in the library of the altitude restaurant with "Herbes", "Vegetables", and "Cereals and legumes". Based in Saint-Bonnet-le-Froid in Haute-Loire for many years, he and his son Jacques offer authentic cuisine inspired by nature and local products. Here is another link of filiation with l'Alpage de Porrez whose mountain constitutes a saving constraint allowing chef Christophe to surpass himself, as he explained in an interview (here).
The presence of books on chemistry and molecular cuisine is not a coincidence: cooking at altitude indeed requires certain very specific knowledge…
The list would be too long to be summarized in a single article, but other renowned chefs occupy the shelves like Jessica Préalpato ("Desserality"), Jean-François Piège ("Zero Fat" ), or even Pierre Gagnaire ("Alchemists in the kitchen" with Hervé This).
There is nothing like culinary literature to whet your appetite before discovering the powerful and refined flavors of chef Christophe's cuisine!
Reservations are mandatory for an unforgettable experience l'Alpage de Porrez.