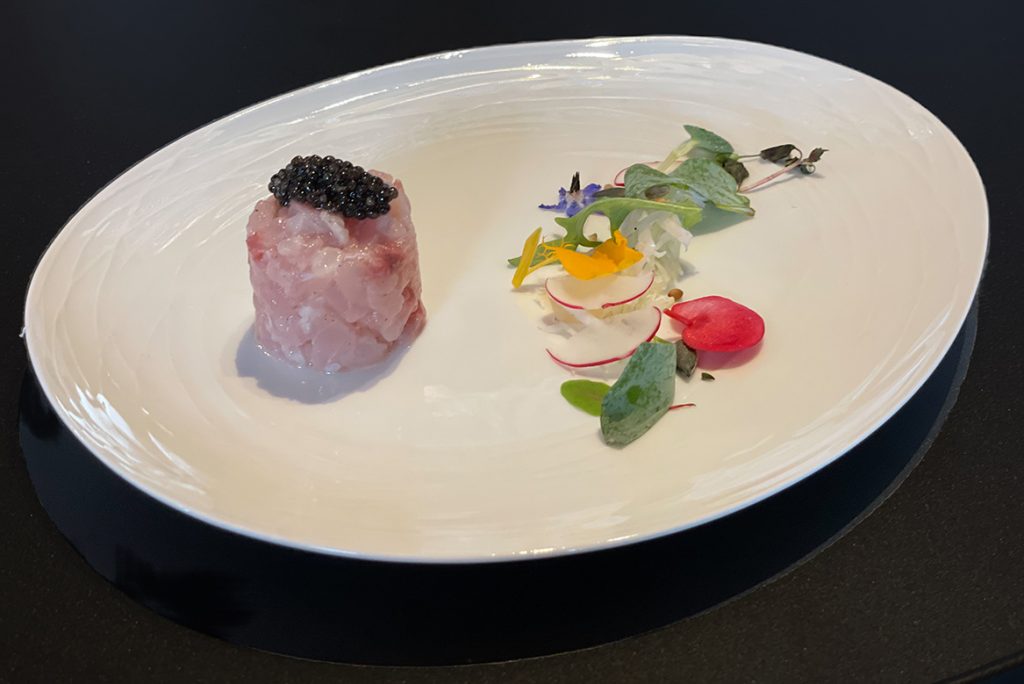 Aromatic herbs at l'Alpage de Porrez
At l'Alpage de Porrez, chef Christophe's cuisine is directly inspired by nature and the seasons. Whether picked in the surrounding mountains or ordered from the best suppliers, edible flowers and aromatic herbs play a major role in the culinary identity of l'Alpage.
The use of plants in the kitchen of l'Alpage de Porrez
Yarrow, wild thyme, lovage, juniper, calendula, oxalis, begonia… These few names of edible flowers and aromatic herbs used at l'Alpage de Porrez are as delicious to pronounce as they are to taste!
Inseparable from chef Christophe's cuisine, plants take a special place in the dishes and desserts of the mountain restaurant. They are an integral part of the identity of the dishes designed at l'Alpage, sometimes to enhance a juice, sometimes to enhance the flavor of meat, bring a zest of freshness to a dessert or give extra soul to a recipe of fish.
Inexhaustible on the subject, the chef knows the aromatic herbs and their specificities at finger tips. This knowledge opens up endless possibilities when it comes to pairing flavors.
Alongside the herbs traditionally used in the kitchen (chives, parsley, thyme, rosemary, chervil, basil, etc.), Christophe uses species less known to the general public. The customers of l'Alpage can thus find in the dishes served at the restaurant new flavors brought by these ingredients with often surprising tastes, such as alliere or agastache.
Cooking herbs: many possibilities
There are many ways to use herbs and flowers in fine cuisine. Raw, smoked, infused, dried, in decoction, in flavored oil, in flavored salt or in syrup, there are multiple combinations to explore.
At l'Alpage, Christophe creates a true ode to nature: he infuses the Haute-Savoie mountain directly into the dishes through fir buds, for example. Picked on site, they are used in the composition of broths or desserts with alpine flavors.
The chef also uses the intoxicating scent of lavender to make juices and sorbets with the fragrance of Provence, while juniper berries deploy all their aromatic power in the smoking of salmon.
Mixed with sugar and boiled, verbena leaves give a tasty syrup that the chef incorporates into his juices or into a dessert. Used raw, the herbs and edible flowers form small colorful gardens, delicately arranged by Christophe in l'Alpage porcelain. Peppery, aniseed, bitter or tangy, they each play their part in the balance of a dish.
Plants above all make it possible to make atypical mixtures, such as the use of dried blackcurrant leaves in the preparation of meat. Tastes change over the months: soon, with the arrival of spring, wild garlic will reappear on the menu… Each season, a real bouquet of flavors is to be discovered and shared at the table of l'Alpage de Porrez.
For lunch or dinner in the heart of the mountains at l'Alpage de Porrez, it is mandatory to book.