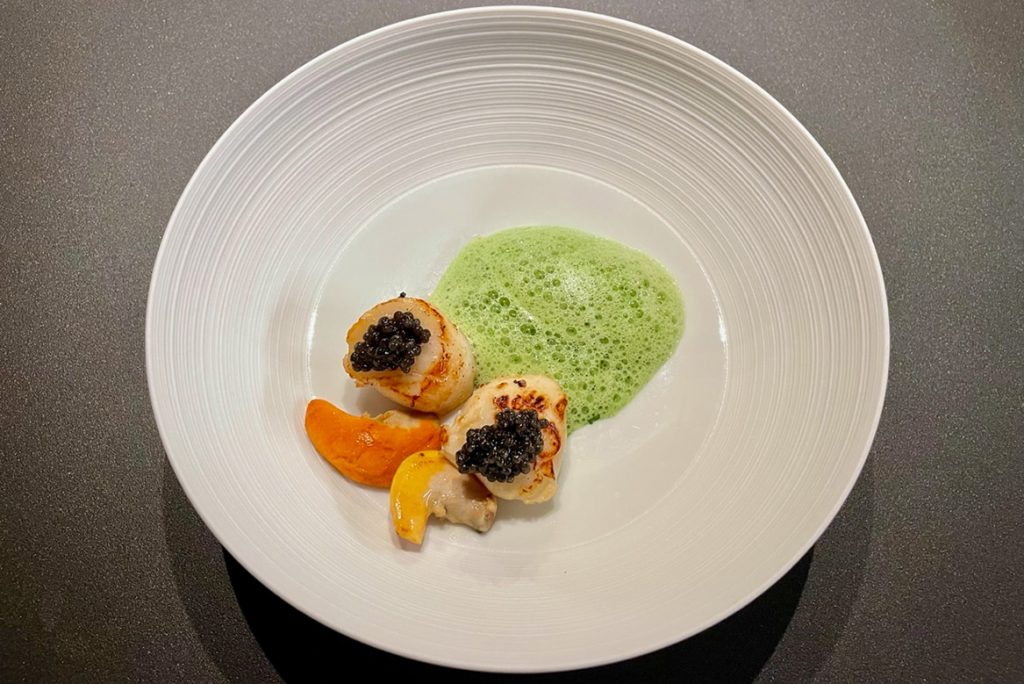 Alpage de Porrez : secrets from the kitchen
In the kitchen stoves of l'Alpage de Porrez since the beginning of the adventure, Christophe talks about his cooking and shares some tips in order to think like a chef.
What dishes or products do you particularly enjoy cooking and why?
Christophe: "I love making jus, it's a huge job. To make a veal jus, for example, you have to plan a roasting time, then I "gobble" it for several hours, then I reduce it, I degrease it, I decant it, then I let it sit for a whole night so that the tastes spread well inside.
In general, when I cook, the goal is not to make up around the products: I want a carrot to really taste like a carrot. I don't arrange the taste of the ingredients by putting this or that spice in quantity, I really want to find the original taste.
To achieve this, you need patience: a steamed potato, for example, I cook it very slowly for 45 minutes. It leads to a transfer of tastes that we would not obtain by simply putting it in boiling water for 20 minutes. This is why I spend a lot of time in my kitchen.
The best advice I can give is not to rush, and above all, respect the product for what it is: caviar as much as an oyster or a shallot…"
What are your criteria for choosing the products you work with at the Alpage?
Christophe: "The products I work with are always of high quality. If it is meat, I will turn to conscientious breeders, small farms. Ditto for the fish, I only cook with line fish, not from trawlers and of course only fresh fish, that goes without saying!
This week, we are offering as a first starter (Royal sea bream and mertensia, Shrenki Gold caviar and fennel zest) with line sea bream from small fishermen. Unlike farmed sea bream, this gives a fish that is not stressed and that is very firm. Last week the whole scallops for our second starter (scallops and coral, Madagascar caviar and parsley mousse) came from a very scrupulous Normandy fisherman who guaranteed exceptional quality.
For fruits and vegetables, the approach is the same: I work with local market gardeners and with suppliers who seek the best products abroad, like the excellent asparagus that I am currently working on as a hot starter (Asparagus, broth from Bresse and truffles from Périgord) and which come from Spain.
My main fight today is to manage to have quality products, because it is easier to respect an authentic product rather than a doctored product…"
What is your chef's advice for successful combinations of refined products?
Christophe: "It takes time. We have ideas that come up with Laëtitia and Christian, we test atypical marriages, and then we taste, we rework… There is a lot of research and a lot of trials.
Sometimes I come up with an idea and we experiment until the dish is perfect. There is a real research work around flavors, texture, presentation…
I also like to work with the product as a whole and in all its forms. For example this week, I'm cooking carrots: I mash the tops and I cook the root in two different ways. So we have in the mouth all the flavor of the carrot with the green of the top which gives a particular, interesting taste.
My advice would be not to format yourself in standard, classic recipes. You also have to know how to work on instinct. »
To discover the cuisine of chef Christophe at l'Alpage de Porrez, reservations are required.