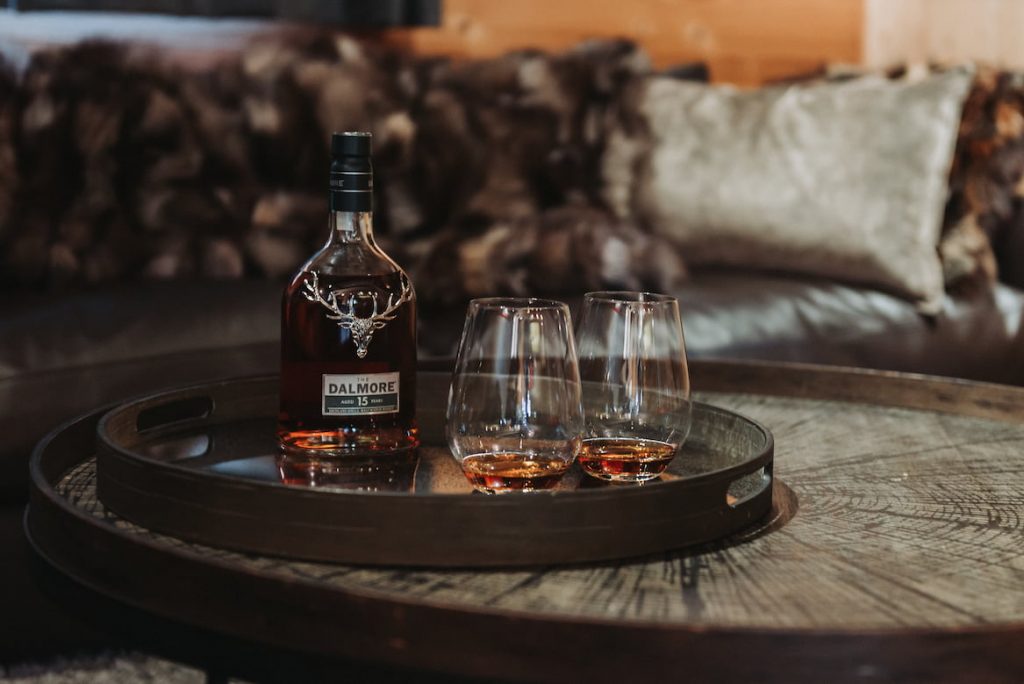 Exceptional spirits at l'Alpage de Porrez
If the choice of wines is the subject of particular attention, the selection of digestives is just as rigorous. Whiskies, gins, cognacs, armagnacs, liqueurs… To finish the meal, customers have the choice between many French and international references.
The selection of alcohols at l'Alpage de Porrez
Lunch or dinner at l'Alpage is a total experience that can be enjoyed until the last minute. The magic happens as soon as you discover the natural setting of the altitude restaurant, nestled between Megève and Combloux, in the heart of the Haute-Savoie mountains.
Then the decor of this old alpine farm is revealed. The welcome, the clogs ritual, the works of art, the fireplace, the open kitchen of chef Christophe… Everything has been thought out so that customers feel immediately at home.
In order to extend this intimate and friendly atmosphere to the end, Laëtitia, owner with her husband Christian, has selected a wide variety of high quality spirits.
Like the menus and the wine list, the digestives have been chosen with care and refinement.
Exceptional spirits on the bar list
At l'Alpage de Porrez, whiskey lovers will find their happiness with more than a dozen references from single malt to blend, peated or unpeated, representing different regions of Scotland, but also other countries such as Ireland, the United States, Taiwan, Japan or France. The journey is on.
Still for lovers of brown spirits, you will also discover Cognacs, vintage Bas-Armagnacs and agricultural rums from Guadeloupe or Barbados.
Laëtitia and Christian have also selected, for gin enthusiasts, a wide range of flavors from all over the world.
Vodkas from Poland and Russia, fruit brandies from the Etienne Brana estate for example, complete the extensive bar list at l'Alpage de Porrez. Without forgetting the flavors of mountain herbs with the different Chartreuses and the Traditional Génépi of the Pères Chartreux.
To discover the unforgettable experience of l'Alpage de Porrez, reservations are mandatory.