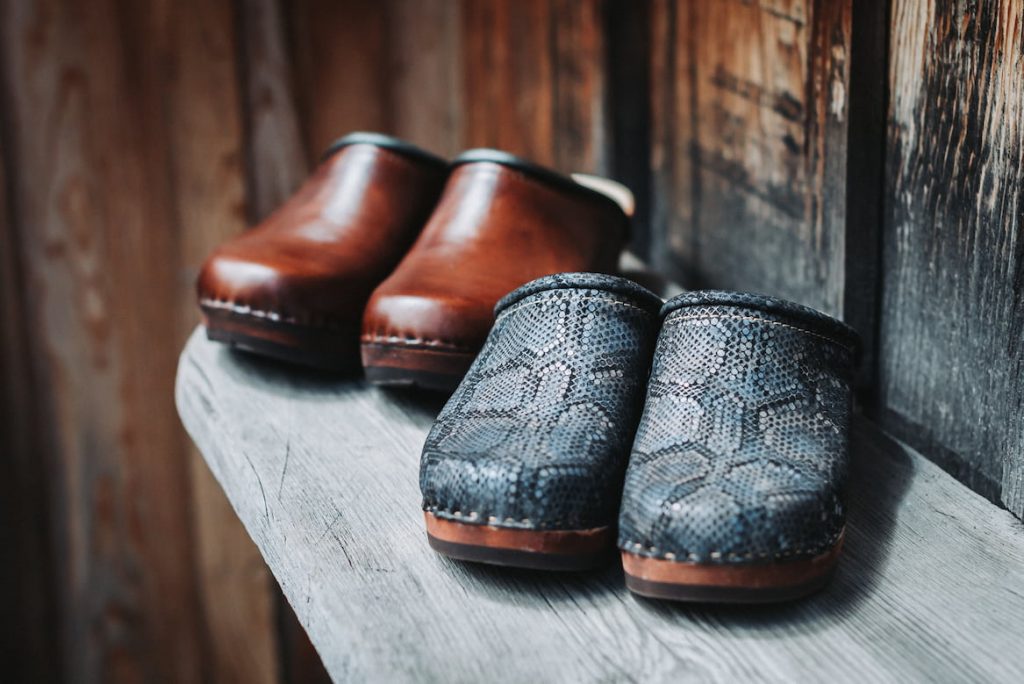 Alpage de Porrez : refinement in the smallest details
At l'Alpage de Porrez, the details make the difference! To offer a unique experience to customers, everything has been meticulously thought out to ensure the greatest comfort. As proof: the clogs offered to guests, made especially for the mountain restaurant by a craftsman-designer.
Alpage de Porrez: a tailor-made experience
At l'Alpage, the smallest details are important. Beyond the question of style, it is a question of personalizing the experience as much as possible for the guests, so that they feel at home from the first steps in the restaurant.
For this, the owners of l'Alpage de Porrez have had pairs of leather clogs custom made for them. Midday customers arriving on skis or hiking are invited to put them on when they arrive, swapping for authentic comfort their ski boots which are placed on the heating rack and found dry and warm after lunch.
Valuable know-how
The clogs are designed and made on demand by Bejamin Renoux, craftsman-creator, at the head of his company Le Cuir du Voyageur, in a workshop located in Mayenne (53), in Saint-Germain d'Anxure.
Benjamin Renoux employs several employees for the manufacture of its products which are presented in three shops in Honfleur, Saint-Malo and Concarneau, where he also offers other objects (belts, bags, wallets, sandals, etc.).
Entirely handmade in an artisanal way, these authentic clogs, customizable at will, are designed to last over time and offer great comfort.
To give a second life to these products of yesteryear, Benjamin Renoux opted for a modern approach in design and colors.
An elegant and poetic way to reconnect with the past of l'Alpage de Porrez, a former alpine farm, while providing very modern comfort!
Featured artists at l'Alpage de Porrez
The passion for know-how and quality is reflected in all the elements that forge the identity of l'Alpage de Porrez. Customers can find this attention in its gastronomy of course, but also with the porcelain, the decoration and the works of art that adorn the restaurant.
Along with gastronomy, arts and crafts are essential themes to create the character of the place, carefully orchestrated in order to offer an unforgettable experience.
To discover the gastronomic menu and the unique atmosphere of l'Alpage de Porrez, it is mandatory to book.