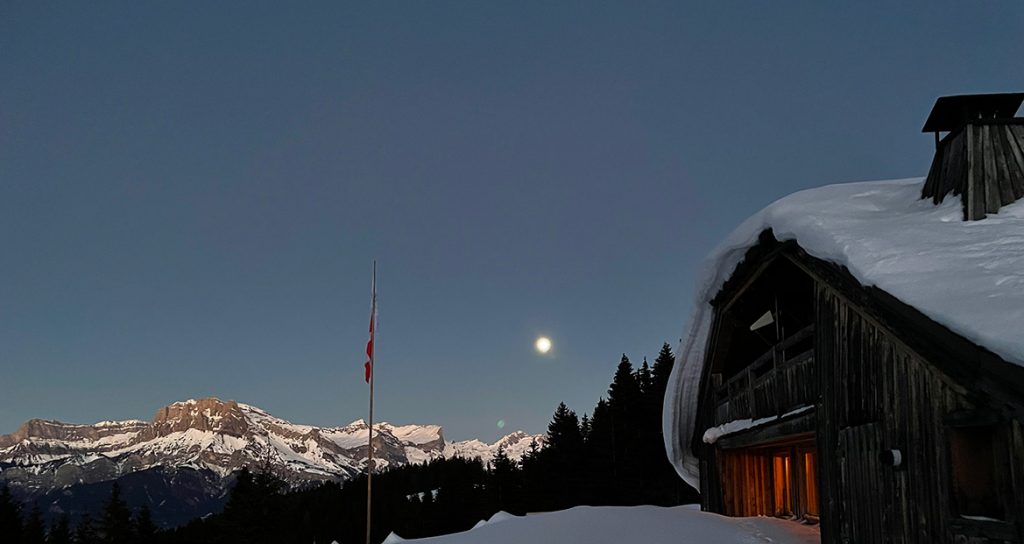 Alpage de Porrez : a hideaway out of time
In the middle of the winter season, the atmosphere at l'Alpage de Porrez is favorable to lounging and disconnecting. In the heart of the snow-capped mountains of Haute-Savoie, guests can enjoy an epicurean and refined break.
Alpage de Porrez: between rusticity and refinement
The fire crackles in the hearth of the Alp. Outside, winter reigns supreme in the mountains. The apparent calm of the snowy nature further reinforces this feeling of being far from it all, isolated from the world and the daily hustle and bustle.
The sweet heat that diffuses through the altitude restaurant would almost make you forget the harshness of the outside climate. A look out the window is enough to set the scene: a parenthesis out of time, a suspended moment where nothing else exists but the present moment.
For visitors looking for peace and quiet, l'Alpage de Porrez offers this subtle blend of authenticity and comfort, a perfect alchemy between rusticity and refinement.
A gastronomic and sensory experience
Much more than a restaurant, l'Alpage de Porrez offers a total and exclusive experience, both gastronomic and sensory. The natural setting is an integral part of the identity of the place. Facing winter, l'Alpage represents a bubble of well-being, a real refuge designed by and for epicureans.
In the kitchen, chef Christophe draws his inspiration from the surrounding nature. Preparing gourmet meals with exceptional ingredients at an altitude of almost 1,600 meters – especially in the winter season – pushes him to surpass himself.
In the plates, the seasonal ingredients are worked with precision and know-how. Surprising, comforting, familiar and unique in turn, all flavors match and respond to the wines carefully selected by Laëtitia.
Time doesn't matter anymore. The guests let themselves be carried away by the benevolent atmosphere of the alpine restaurant and take full advantage of the experience, in total immersion in the nature of Haute-Savoie.
To discover l'Alpage de Porrez mountain, its surroundings and its gastronomy, it is necessary to make a reservation.