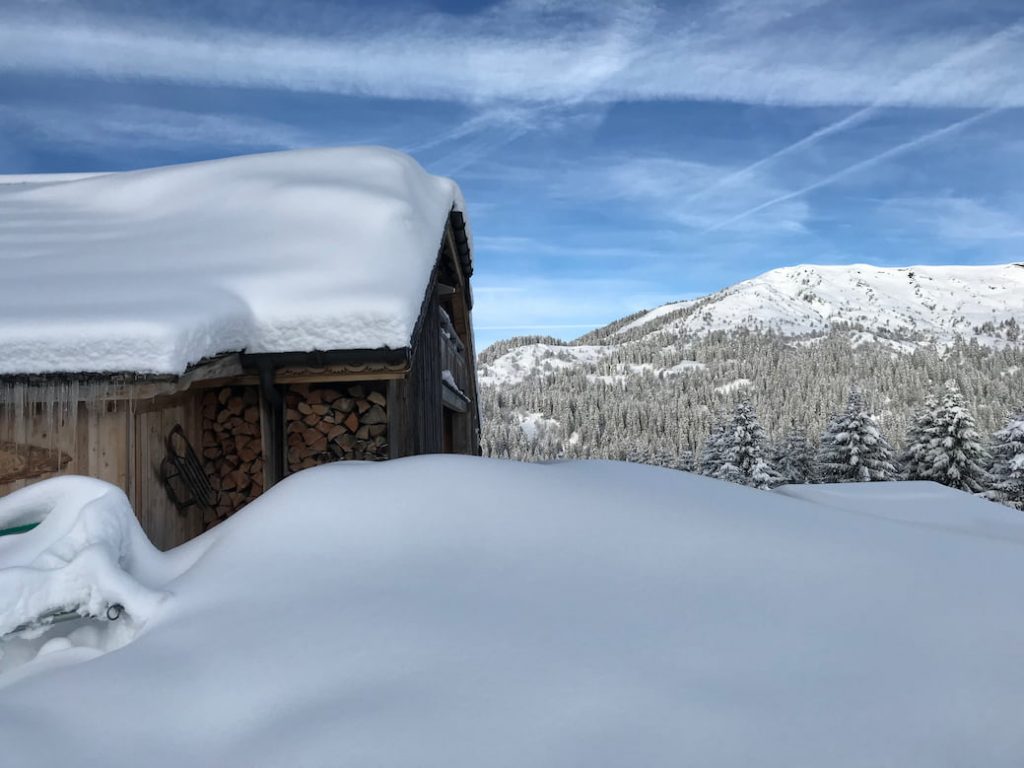 The natural setting of l'Alpage de Porrez
Nestled in the mountain at an altitude of nearly 1,600 meters between Megève and Combloux, L'Alpage de Porrez is part of an exceptional natural setting, typical of Haute-Savoie. A rich and varied environment for an experience that will delight both nature lovers and gourmets.
Alpage de Porrez : a breathtaking panorama
Built in the heart of the mountain, L'Alpage de Porrez blends in perfectly with its natural environment. This old altitude farmhouse with timeless charm takes place on a site shaped by the elements and periods of transhumance.
Located near the Col du Jaillet, between the towns of Megève, Combloux, Cordon, Sallanches and La Giettaz, the mountain restaurant offers a breathtaking view of the Aravis range. Located between Haute-Savoie (western slope) and Savoie (eastern slope), this mountain range stretches for nearly 30 km from Cluses to Ugine. Its highest peak, Pointe Percée, rises to 2,750 meters.
From the L'Alpage de Porrez, guests can enjoy this panorama, which is one of the most beautiful and emblematic of the French Alps.
Explore the surroundings of l'Alpage
Haute-Savoie is made up of rich and varied landscapes, between flowered alpine pastures, pine trees and spruce forests, snow-capped peaks and natural lakes. L'Alpage de Porrez is ideally located for enjoying the beauty and calm of nature.
Getting to L'Alpage also allows you to discover the towns of Megève and Combloux and their surroundings. Here too, outdoor enthusiasts will be delighted by the many natural sites around.
From Combloux, visitors can discover the Bois des larches, the biotope lake, as well as a 360° panorama of the Mont-Blanc, Fiz and Aravis ranges.
In Megève, just above the village, the cirque de la cote 2000 and the Croches needles set the scene. Many hiking trails are available in the area, allowing you to explore nature, its abundant flora and fauna.
Winter sports: the ski resorts nearby
Winter sports enthusiasts will not be left out with the presence of two large ski areas close by: the "Evasion Mont-Blanc" area, with 230 slopes spread over 445 km and the "Portes du Mont-Blanc" area, with 69 tracks spread over a 100 kilometers.
In the winter season, customers of L'Alpage de Porrez have the possibility of reaching the altitude restaurant on skis during the day, as well as by snowshoe or by helicopter if the weather allows it. In the evening, they are transported by snowmobile or snow groomer.
To take advantage of the unique experience offered at L'Alpage de Porrez, it is necessary to make a reservation.