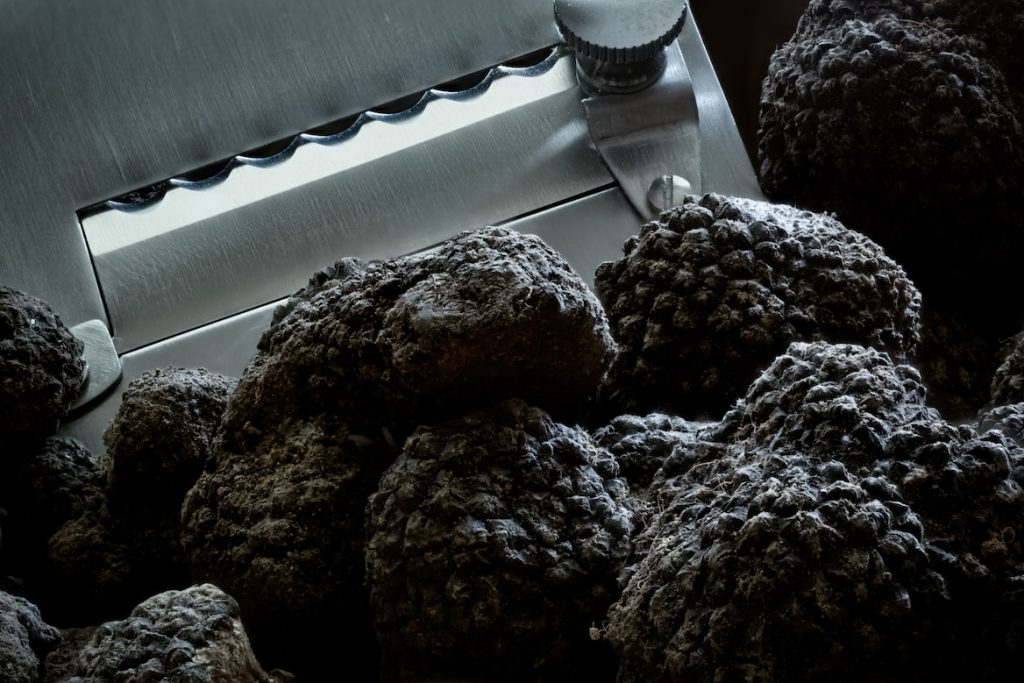 Alpage de Porrez : Maison Mure's "black diamond" in the spotlight
L'Alpage de Porrez surrounds itself with handpicked producers to offer its guests high quality products. Provided by Maison Mure Truffles, the Tuber melanosporum black truffle is no exception: this seasonal product is cooked in multiple ways by Chef Christophe Crotet. 
Alpage de Porrez: the art of working with noble products
In the cuisine of l'Alpage, creativity is the key word. As a fine connoisseur of seasonal products, Chef Christophe likes to reveal all the aromatic subtleties of each ingredient.
Caviar from Madagascar, Mowi salmon, "Rose de Berne" tomato, Aberdeen beef… All these products are the subject of a rigorous selection before being cooked in the presence of customers, during a moment of sharing and essential complicity between the chef and the guests.
Among the star ingredients of l'Alpage, the black truffle is carving out a special place. Worked in different ways by the chef – sometimes as an appetizer, sometimes as an accompaniment to a shell of poultry or a fish – it goes just as well with a poached pollack as an egg or a scallop.
At the mountain restaurant, the Tuber melanosporum from Vaucluse, collected from November to March in the south-east of France, is honored on the plates.
The black diamond and Maison Mure Truffes: a family story since 1887
To obtain the most fragrant specimens, the chef sources his supplies from Maison Mure Truffles, located in Richerenches in the Vaucluse, a village renowned for its truffle market.
Located in the "Enclave des Papes" in the Drôme, Maison Mure is the result of a family tradition of the truffle trade that has been going on since 1887.
Traders from generation to generation, Maison Mure's experts select and buy truffles for their private and professional clients, ensuring perfect control of their freshness and taste qualities.
The first woman in France to practice the profession of truffle trader, Catherine Mure has taken up the torch of the family tradition, representing the fifth generation at the head of the company.
Introduced to the profession by her father, she combines expertise forged in the field with a relationship of trust forged with her producer partners. She guarantees a subtle flavor and powerful aromas for her "black diamonds", harvested locally, between Mont Ventoux and Drôme Provençale.
Catherine Mure shares with the managers of l'Alpage de Porrez a concern for quality and a desire to pass on her passion.
To taste this flagship product of French gastronomy cooked by Chef Christophe, reservations are required at l'Alpage de Porrez.