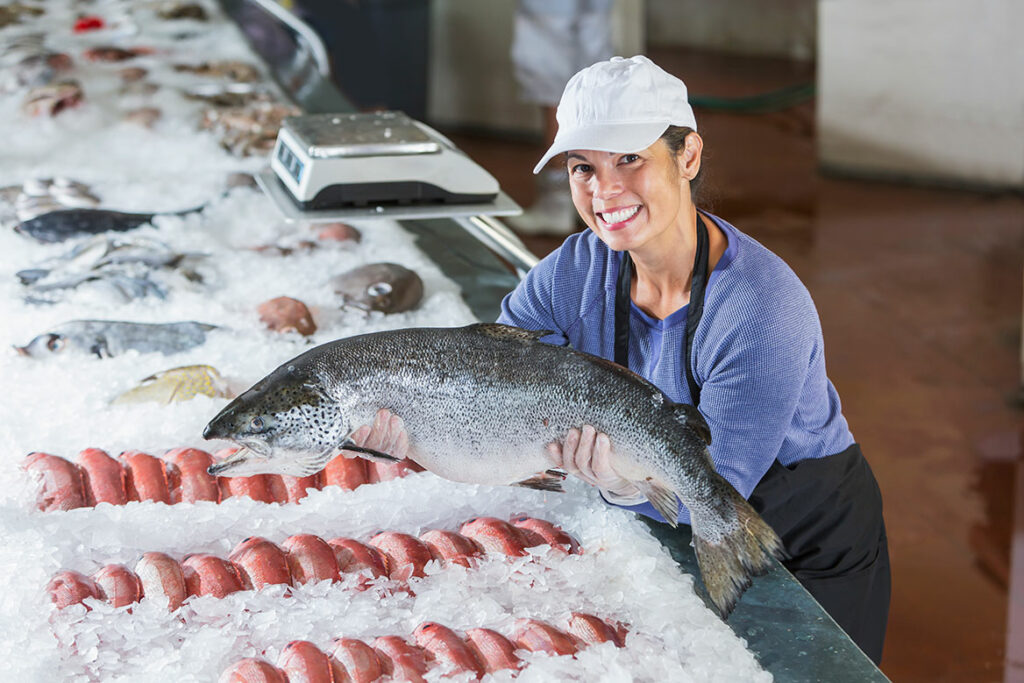 The selection of fish on the menus of l'Alpage de Porrez
At l'Alpage de Porrez, each ingredient is subject to a rigorous process. This requirement makes it possible to work with the best products in order to offer customers authentic and refined cuisine. The choice of fish and seafood is no exception to this approach of quality and freshness.
Alpage de Porrez : an exclusive selection of the best fish
Serving the best fish and shellfish at an altitude of more than 1,500 meters is the daily life of l'Alpage de Porrez. Trained at the best tables, chef Christophe makes a point of cooking only with ingredients of exceptional quality.
The fish served at the Alpine table are always wild, freshly caught and sourced from handpicked suppliers. Christophe's motto, "to work a noble product nobly", takes on its full meaning here.
To offer this level of quality to restaurant customers, the chef works with a fishmonger based in the Jura. Depending on the arrivals, he makes an exclusive selection of his best products for the altitude restaurant.
In order to guarantee the freshness of these delicate foods, a special procedure has been put in place to transport them to the altitude restaurant, nestled in the heart of the mountain, between Combloux and Megève.
A cuisine inspired by the elements
From these exceptional products, Laëtitia and Christian, the owners, and the chef prepare the dishes by combining their inspirations. Different each week, the menus inexorably include meat and fish, enhanced by subtle and unexpected combinations of flavors.
On the plates of the Alpine restaurante, Black Tiger prawns go perfectly with wild roots. Spiced up with coriander, the crab mixes with the beetroot. Brittany blue lobster is eaten as an open lasagna and the langoustine tails are combined with a spicy sabayon.
Christophe's cuisine also honors the finest fish. In his hands, red mullet is accompanied by a peppery emulsion, fennel and passionate tomato; Skrei, an exceptional Norwegian cod, is served in a marinade with agastache broth, a plant with a very subtle anise flavor. Caught in the Saône river, wild pike-perch is associated with the iodized taste of caviar, oyster mushrooms and asparagus. Poached pollack and black Burgundy truffle pair perfectly in a tasty land and sea.
As for the salmon, it is offered at the restaurant in different ways: wild from Loch Lemond, it is cooked with pink tomato from Bern, while the Mowi from Norway is served gravlax with granny apple and celery.
The chef puts his creativity at the service of the product to give life to an unforgettable taste experience.
To enjoy refined cuisine in an exceptional natural setting, reservations are required at l'Alpage de Porrez.