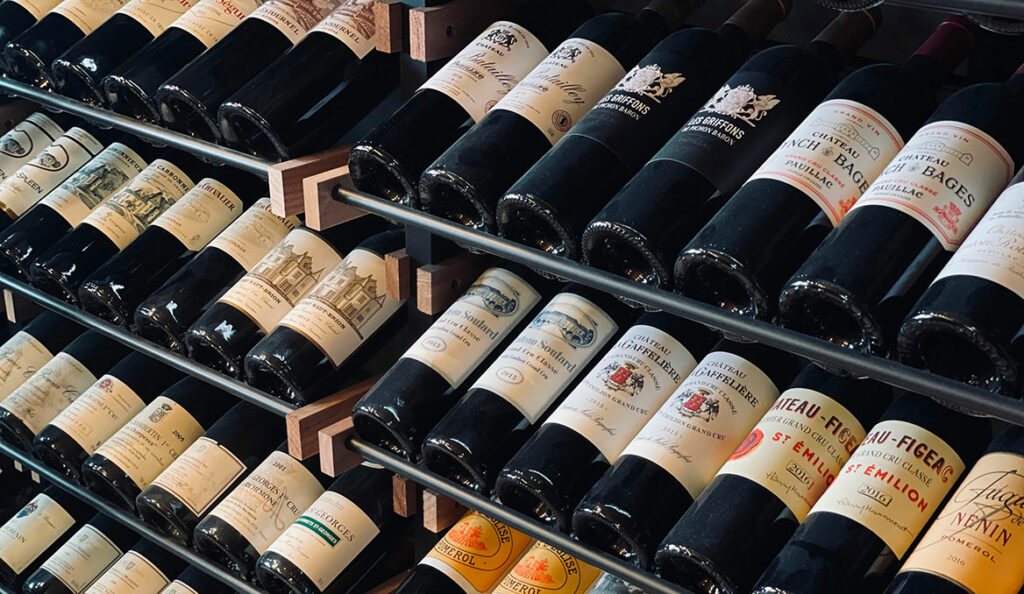 Alpage de Porrez : wines selected with passion
At l'Alpage de Porrez, the wines are carefully selected by Laëtitia, owner of the restaurant with her husband Christian. A sommelier by training, she puts her knowledge at the service of her customers to help them discover exceptional bottles but also wines of lesser-known appellations, in harmony with the dishes prepared by the chef.
The wine list at l'Alpage de Porrez : great wines and wonderful discoveries
At l'Alpage, the wine is carefully stored in an underground aging cellar. This selection, eclectic and refined, is revealed in part to customers through the windows of the large exhibition cellar in the kitchen. Among the presented bottles are exceptional crus mixed with more confidential wines, real "finds" unearthed by the sommelier.
A clever blend of erudition and curiosity, the selection of wines is a matter of passion at the altitude restaurant. Introduced very early to tasting and knowledge of wines, Laëtitia quickly realized that this enthusiasm would be decisive for her professional life.
A prestigious background
Very young, she turned to studies in hotel and catering at the Savoie Léman hotel school in Thonon-les-Bains. In 2003, Laëtitia took part in the Antonietti Trophy, where she tied for 4th place. Stopped in 2010, this national restaurant service competition was a benchmark in hotel schools.
For Laëtitia, it was the first of many other competitions. In March 2004, she climbed to 2nd place in the European Competition for the best young wine professional. In May of the same year, she tied for 3rd place in the Chapoutier Competition (best apprentice sommelier in France in wines and spirits). Then in June 2009, Laëtitia took part in the Champagne Jacquart Rising Stars Trophy, where she won the regional competition and finished in the top 2 in the grand finale in Bath, England.
At the same time, she continued her studies as a sommelier and, in June 2004, she was the valedictorian for the Additional Mention for Sommelier Employee at CFA in Groisy (Haute-Savoie). She then obtained her professional sommelier certificate in June 2007 at the Lycée Albert-Bayet in Tours.
Thanks to her career, she has multiplied her experiences with winemakers and with starred restaurants on both sides of the Channel: Les Trois Dômes in Lyon (with chef Alain Sanderens); The White Room in Seaham; The Orangery in Chambéry; The Brybook in Castle Comb; the Hermitage de Corton in Aloxe-Corton; The Ecusson in Beaune.
Expertise as a gift
While food and wine pairings hold no secrets for her, Laëtitia decided to settle as close as possible to the vineyards, in Burgundy, a region she particularly loves. This is where she met Christian. Together, they laid the groundwork which would allow them to open, a few years later, l'Alpage de Porrez between Megève and Combloux.
Associated with the pleasures of wine, the idea of sharing has always been at the heart of Laëtitia's passion, who also gave tasting courses. At l'Alpage, she is writing a new page in her profession as a sommelier, proposing carefully selected wines, always seeking the best match with the cuisine of chef Christophe.
Besides Burgundy wines, Bordeaux also holds a special place in her heart. Little by little, she is completing l'Alpage cellar based on her experiences and preferences, in order to offer guests a rich and varied choice of over 150 appellations.
To discover the refined cuisine of l'Alpage de Porrez and its fine wine list, reservations are required.