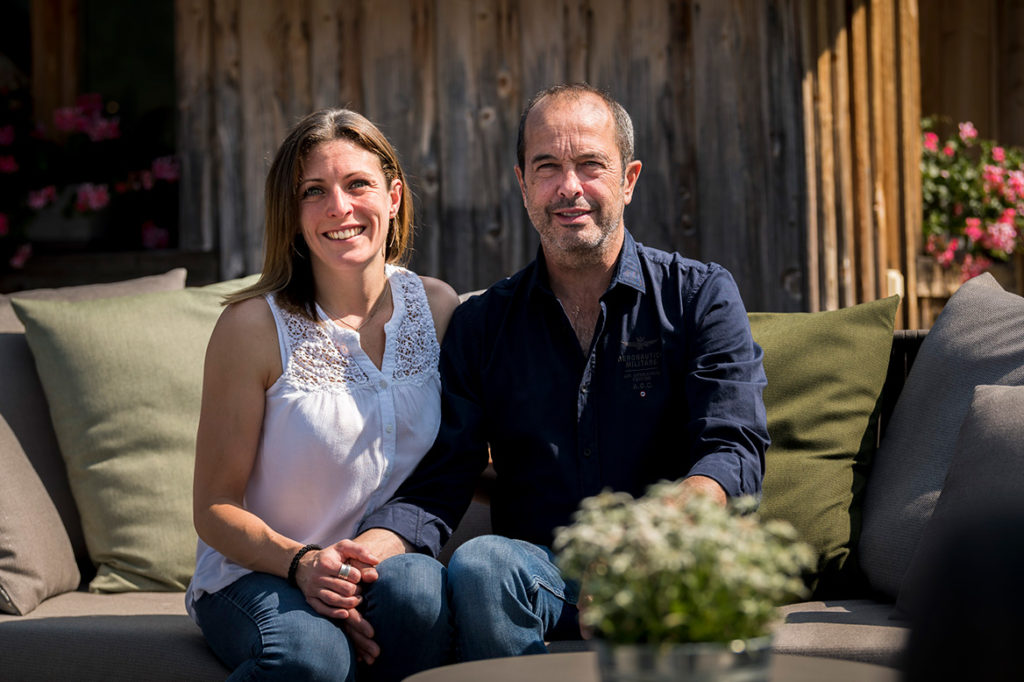 Laëtitia and Christian: the perfect harmony of l'Alpage de Porrez
L'Alpage de Porrez was taken over by Laëtitia and Christian in 2017. Both passionate about gastronomy, they mingled their influences and their personalities in their altitude restaurant. Refinement, travel memories, sharing and indulgence compose the soul of this place shaped in their image.
Laëtitia Remoissenet, transmitting passion for wine
Laëtitia developed a taste for gastronomy at a very young age and attended the Hotel School of Thonon-les-Bains. Since then, through her many experiences in the hotel and catering industry, she has endeavored to introduce wines, grape varieties and producers whose values ​​she shares.
During her specialized studies as a sommelier, Laëtitia distinguished herself in several competitions she took part in as a personal challenge to improve her skills. Like a personal challenge, a way to surpass herself.
Immersed in several winegrowers during her studies, she discovered a fascinating and abundant universe. Between 2005 and 2007, her experience at Le Sofitel in Lyon with chef Alain Senderens – who very quickly recognized her potential in wine knowledge – had a lasting impact on her.
Perfectionist, she makes a place for herself through hard work in a profession where men are in the majority. After several experiences in France and England, Laëtitia decided in 2009 to settle in Burgundy, to be as close as possible to the wineries.
At l'Alpage de Porrez, her greatest pleasure is to pamper her customers and have them taste confidential wines alongside the big names in her selection. "It is more difficult to introduce a winegrower than to offer well-known labels", says Laëtitia, who likes to surprise her guests.
Christian Remoissenet, gastronomy as a heritage
Coming from a family of wine merchants, Christian grew up in Burgundy in the gourmet restaurant run by his mother, Edith Cordier-Remoissenet. Recognized by her peers who never missed an opportunity to come and taste her cuisine, in her time she was one of the best chefs in the country.
Surrounded by a thousand flavors and the effervescence inherent in restaurant life, Christian naturally immerses himself in this environment where gastronomy and wines reign supreme.
Entrepreneur, he travels the world and engages in various professional activities, notably at the head of a winery. An environment whose codes he perfectly masters.
Always looking for an activity to develop, Christian has also created in 3 years a network of 40 wine shops throughout Europe.
Always passionate about aviation, he became a professional pilot and created a private jet company named Priv'Air which he currently manages.
Alpage de Porrez : excellence at an altitude of 1,580 meters
Laëtitia and Christian met in Burgundy. Wine-growing land par excellence, the region brought them together through their common passion: gastronomy. In 2011, the couple decided to open a guest house in Monthelie, "La Ferme de Marjolet", located a few kilometers away from Beaune.
That place – a magnificently renovated 12th century farmhouse – already displayed the couple's ambitions: to invest an isolated place in a wild environment, restore it to their image and convert it into a haven of peace. An exceptional setting for a refined clientele looking for a timeless parenthesis.
Driven by high standards and a keen eye for details, Laëtitia and Christian shaped their identity in this guesthouse. They laid the foundations for what they would achieve, a few years later, at l'Alpage de Porrez.
In 2016, it was love at first sight that prompted them to take over this former alpine farmhouse set up opposite the Aravis range. It was here, between Megève and Combloux at an altitude of 1,580 meters, that Laëtitia and Christian decided to realize this intimate and atypical project that had animated them for several years.
Accessible only by reservation, l'Alpage de Porrez welcomes customers every day, for lunch and dinner, throughout the summer season.