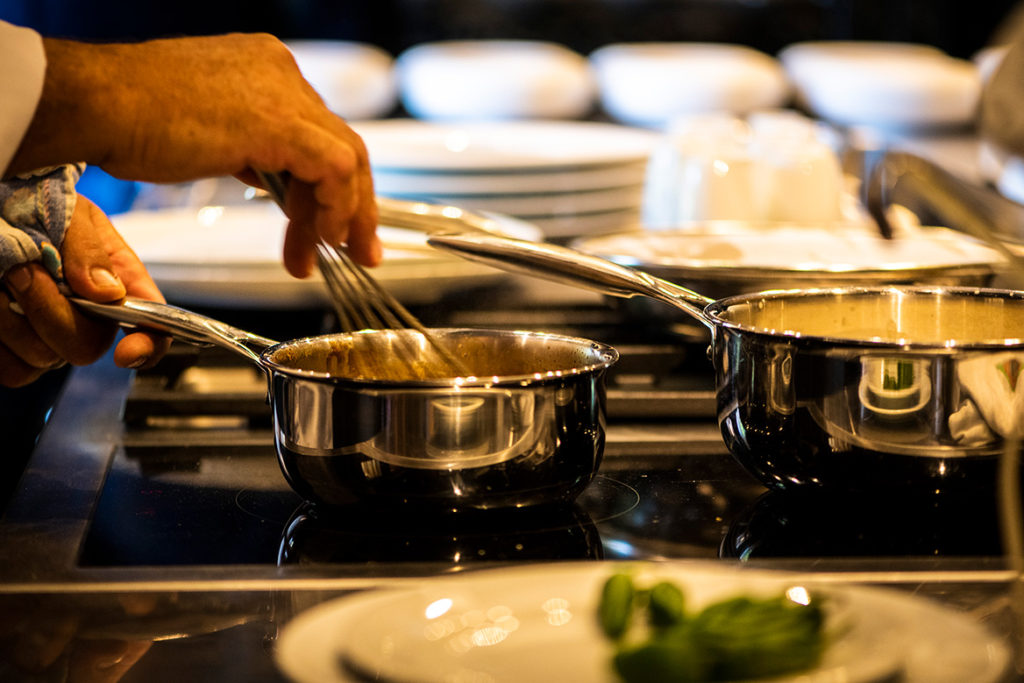 Alpage de Porrez : daring combinations of flavors
At l'Alpage de Porrez, surprising the taste buds of gourmet customers requires research and daring. In the kitchen, Chef Christophe Crotet knows how to use his imagination to divinely combine the best products. The proof by example with his 100th creation for the restaurant: "Aberdeen beef smoked with fir buds, juniper juice and ash potato with tarragon" …
Alpage de Porrez : the art of sublimating flavors
At the restaurant, everyone brings his ideas and inspirations. Around the chef, Christophe, the owners Laëtitia and Christian provide food for thought. The trio's fruitful discussions around exceptional products, flavors and techniques result in refined and always surprising gourmet dishes.
It is in this creative osmosis that L'Alpage de Porrez welcomes its 100th original creation composed of powerful flavors, dosed with care and know-how, directly inspired by the natural setting of the altitude restaurant with fir bud and juniper, true accomplices of this exceptional Angus from Aberdeen.
Aberdeen Beef: the rich history of a noble product
Product selection is an essential mission at L'Alpage de Porrez, which is the subject of rigorous attention. Aberdeen Angus Beef was no exception. Great breed of cattle, the Aberdeen Angus originates from the North West of Scotland. It was named from the counties of origin of the beasts: Aberdeenshire and Angus.
The oxen have been selected since the end of the 18th century, from predominantly black and hornless specimens. Aberdeen breeding farms can be found all over the world today, including France. This breed has the characteristics of being particularly resistant and of adapting easily to its environment.
From a taste point of view, the meat of Aberdeen Beef is highly appreciated for its perfect marbling, giving it a unique taste and a unique melt in the mouth. The way the chef prepares it, smoked with fir buds and accompanied by juniper juice, enhances all the flavors.
Le respect des goûts et des produits
Often gourmets, our customers are constantly on the lookout for new products and culinary innovations. To surprise them and make them discover new flavors, we explore all the possibilities offered by products from our regions as well as by flavors that we bring from other regions of France and from abroad.
To discover Christophe's beautiful creations at l'Alpage de Porrez, reservations are required.
Photo © David Casartelli