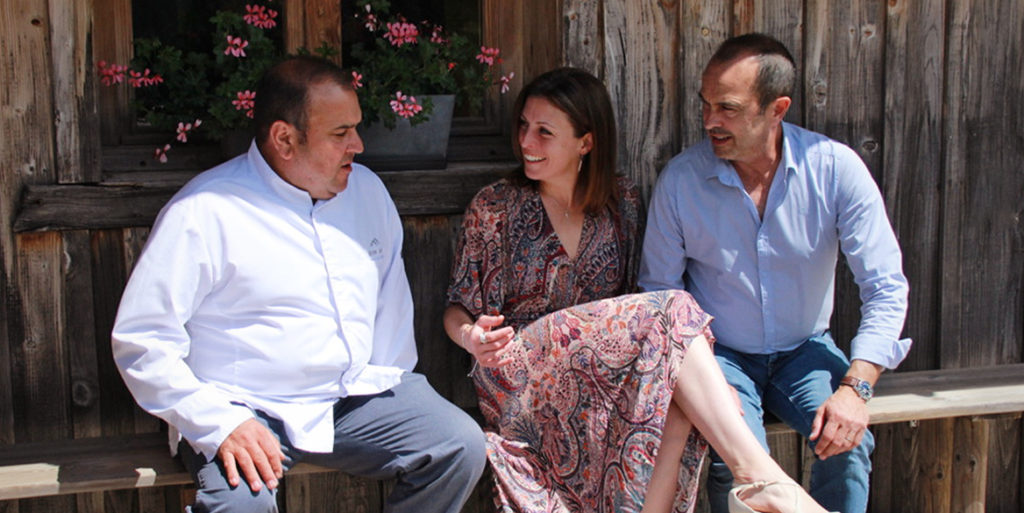 Cross-interviews at l'Alpage de Porrez
At l'Alpage de Porrez, Laëtitia et Christian Remoissenet, the owners, and Chef Christophe Crotet play the cross-interview game. They lift the veil on their relationship with customers, gastronomy and this exceptional living environment.
Alpage de Porrez: "gastronomy, the arts and sharing"
Can you tell us about one of your most memorable moments at the Alpage de Porrez?
Laëtitia and Christian: « It was in the evening. We had about ten people for dinner at l'Alpage. Among them was a pianist friend. At the end of the meal, he settled into our grand piano and literally took possession of the room. He played until 3am.
The atmosphère was amazing. What we remember above all was that friendliness, the osmosis that was naturally created between the customers, gathered around the piano. A magnificent end of the evening perfectly representative of the atmosphere we want to inspire: a total experience that combines gastronomy, the arts and sharing. »
A cuisine molded by the environment
Christophe, the link between gastronomy and the living environment is inseparable at l'Alpage de Porrez. Could you explain how this place influences your way of cooking?
Christophe: « The two are indeed very linked. Cooking here made me approach my work in a different way. There is not only the fact of being in direct contact with customers, which is always very pleasant, but also a personal challenge.
Despite my experience, being the Chef at l'Alpage de Porrez pushes me to my limits, in terms of finishes and selection of flavors. In the mountains, you are far from everything, so in some cases you have to know how to improvise and show ingenuity. This requires in depth research and constant creativity throughout the process. »
A unique place, an atypical experience
Laëtitia and Christian, you receive your customers in an intimate restaurant which is also your own home. They are welcomed in your living room, have free access to the kitchen, eat at your table … As if you were receiving friends. What can you tell us about the special relationship this creates between you and your customers?
Laëtitia: « This configuration encourages sharing and exchanges. People don't realize it right away, but they feel like themselves at home and can relax and fully enjoy the moment.
This ties in with the anecdote of the piano: everything has been designed at l'Alpage de Porrez to offer a timeless parenthesis, a hideaway, to people who love fine cuisine, wine, art, music… This kind of atypical experience is not possible in a standard configuration. »
Accessible only by reservation, l'Alpage de Porrez offers menus developed each week with passion, based on seasonality and refined combinations of flavors.